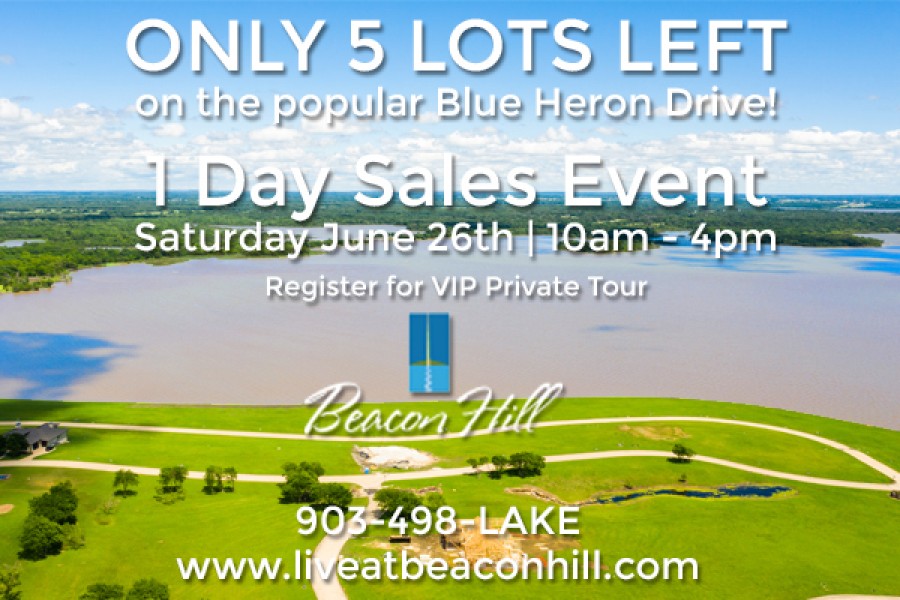 Due to the overwhelming sales activity of our popular Blue Heron Drive Lakeview Lot location, we are offering an exclusive opportunity for you to register for a 1-day sales event for the remaining 5 homesites in this area.
These 16,000ft fully improved (underground utilities including fiber optic TV Phone and Internet with City Sewer and Water) homesites provide breathtaking views of Cedar Creek Lake from high atop Blue Heron Drive in our exclusive Waterfront Gated Community.
This is a VIP exclusive opportunity to register* to purchase** one of these amazing homesites before the remaining 5 are sold.
*Sales are on a first come first serve basis. These homesites are priced between $160 and $195k.
**A lot purchase agreement and a $5,000.00 Lot Hold Deposit Check will be required on the day of registration.

For more information on VIP Private Tours, please contact our Sales Office directly at 903-498-LAKE (5253) or email us at PSlack@liveatbeaconhill.com


---